"Help! I don't know what to post on my social media channels anymore" is one of the most common problems a business owner or anyone who runs the social media for a business will run into. 
We can YouTube a tutorial on actually how to post to our Instagram or Facebook account and we can read endless blogs on working the algorithm, creating customer personas and using Canva for creative… we know we need to be active on our social media and we know we need to communicate with our customers, but the art of coming up with constant ideas can be exhausting. 
But fear not, I'm going to share some of my favourite content ideas with you and a bit of insight into the content planning process I use for my client work. 
Start with a purpose.
We need to know what we want from our social media platforms before we start – this is the social media strategy piece and doesn't need to be daunting. Even just thinking of the "why, what, who and how" and then writing these down will be a great start! 
From there, I list all content themes and topics for the business. This can be a list or a table or a mind map or whatever you like! I am a scribbler and usually start with a mind map and then tidy it up in a table format. 
It's worth saying that I split these up into 4 content pillars- value, community, brand and sell – and then put ideas under each heading. Don't panic, you won't have loads of ideas in each category, but you will have loads of content ideas period! 
Think of it like this:- each idea is at least one post or piece of content, if you have around 20 ideas on the page… that's 20 pieces of content. If you post on social media 3-4 times per week, you are already looking at around 6 weeks worth of content; and that's before you even take into account seasonal, timely or worldly content! 
Start with a purpose and move to the plan. 
I use a simple monthly calendar template for a business' social media content planning and each month has around 2-3 content themes. The content themes tie into the seasons, events, training, business objectives or similar. 
As an example; an October content theme could be Autumn and October holidays. November will likely be geared towards Christmas, with a winter theme and maybe Guy Fawkes with relevant to your audience and December will be full blown Christmas.  
This handy flow diagram might give all those words some perspective too…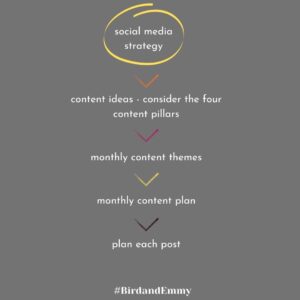 Cool, so what are some of the ideas?
1. UGC  – user generated content
The kind of content that your customers create showcasing your products or services and then share on their social media tagging you or using your branded hashtag. 
P.S your customers need to have a public account for you to be able to repost or share their content, if they have a private account then message them and ask permission! 
P.P.S  a branded hashtag is the one you create for your business; like #BirdandEmmy
2. Company news
Something happening in your business? New equipment? Training? New products? A uniform? You get the idea right?! Some good creative and a caption around why this is great and why your customer should care and you are good to go. Add in some behind-the-scenes story content for a double-content win. 
3. Books you are reading  / podcasts / blog posts
Not going to even pretend that I don't love this as a content idea! The potential for the creative and the opportunity to tick off a few content pillars with this one is huge. You can tie the caption into your product or services, your company ethos, the way you do business or how you treat your customers. 
For example; have you read a blog that really resonates with you as the business owner? Share a snippet on your social media. Share a screenshot on a podcast that you loved, tell your audience why. Reading a book that relates to your experience, business or products? Share an image or video and share the story or the experience. 
 4. 
FAQs [frequently asked questions]
I approach this one for clients in two-ways; firstly we create a list of obvious FAQs around things like parking or delivery for example and secondly we create a list of questions that are specific to a business' customer profile. These usually focus on the "pain point" thing and are literally problems or concerns that your ideal customer has; the content comes around how you can answer these and share on your social media channels. 
Some examples:
Sell clothing? A sizing guide for online shopping.

Sell consumables (food / drink)? How to enjoy the product at home. 

Sell a service? How the benefits of your service will add value to our customer.
5. Meet the team
Sounds super simple, but try shaking it up by being creative with your captions and image choice. I.e avoid the standard work headshots and share a fun fact about your teammate. Work alone? Still relevant as you could go for a selfie and share a fact about you your customers won't already know; or a snippet about your business journey. 
6. Behind the scenes 
Ok this one we could string out for months and it has the potential for story content, timeline / grid content and can be turned into a video, a reel, an image or even a blog! So instead of showing the "finished product" show the process behind creating the finished product. 
7. Testimonials / reviews
These can be pieces of content created from a google review, a recommendation on Facebook or words from a written testimonial; and you don't need to add your customers name if they would prefer you not to either. 
8. Inspiration / motivational quotes
Your social media channels are not only a communication platform, but a space to create inspiration for your customers – like a virtual shop window (and that applies to your business even if you sell a service that is your skills). Share quotes relating to your business or your values and ethos; or create text images with bring that "so yes" moment for your audience. 
9. Environment – work space / playlists
Pretty sure that we all know that "people buy from people" and whether you are shy or not, your audience and your customers want to see your work space! We also know that there is only so many times you can show your desk or kitchen table, so try for any equipment you use, your "let's do this" playlist or a favourite snack to go with that to -do list. 
10. Products / equipment
This one can tie into "behind-the-scenes" content too or even the work environment one! 
For example "I bought this new pen, that I will use to write out the plan for my new workshop. Send me a DM to join the waiting list to book your space". A super simple example, but you can get the idea that anything you use on a daily basis, even a delivery or stationery order in your business can be turned into a content idea and shared as a post on social media. 
And what do I do now?
I know there is loads of information in this blog and am pretty sure you were just looking for some content ideas to be able to create a few social media posts. Which is cool, take the ideas and get on it!
But, if you can spare an hour or so over a coffee and some cake then take a look at your monthly social media content plan and have a little think around ideas based on the content pillars or a monthly theme that is relevant to your business and your customers. 
If you can get into the habit of viewing your social media content over a monthly period or even just a few weeks at a time if a month is too daunting, that will help you to post regularly and more consistently.

It will also help you not feel like you are not out of ideas. 
Help, I am still stuck.
If you have a specific question, just get in touch and ask me. If you think this is just super time consuming and basically reading like a foreign language then maybe a 1-2-1 session with me would be a better option for you? All the options are here. #BirdandEmmy