A digital strategy that shines as brightly as you do
Marketing can feel complicated but at its core, it's simply about building trust with a particular group of people. You achieve trust by showing up routinely with a consistent message that's customer-focused.
Strategy + Consistency + Community
Bespoke digital marketing support for small businesses, startups and leaders in or around Aberdeen or virtually
1. It all starts with strategy
(Bring your own or start from scratch)
Without a digital strategy, it doesn't work. You need to know:
Who you're talking with
Where you're talking with them
What you're talking about
And WHY?
We'll get together with all the key players in your business (so everyone gets their say) to talk about your business goals and how your digital strategy will support them.
2. Next, we'll make a plan for consistency (and then just do it!)
Success on social media doesn't happen overnight. It takes time, a plan and consistent effort.
We'll work together for a minimum of four months to keep you on the right track.
(Be warned – I've been known to use my Mum Voice when clients start going astray!)
3. And we'll always get social with your community
Whether you need support to manage social on an ongoing basis or you want to train with me so you can do it yourself…
I'm here to make sure your community loves what you're creating.
"I really value Suz's ability to ask the right (read 'tough'!) questions to work out a digital strategy that fits our business. She makes an awesome sounding board – our business meetings feel more like a catch up between friends. The level of engagement across our social channels has doubled in the time we've worked together. The engagement stats for our business are three times that of our industry average!"
Lynne, Co-founder, Esker Spirits
"Prior to working with Suz, we had lots of great ideas but things always got in the way. Suz not only makes things happen, but does so in a clever, creative way. She is very much an integral part of our business and her caring, vibrant, dynamic personna brings so much to our team."
Healthcare clinic, Aberdeen
"Suz has been instrumental in providing us with structure and direction. She's the expert in all things social media and with her support, we have enjoyed incredible growth, coverage and engagement across all of our channels. I can't recommend her enough."
Andrew, Director, Vero Recruitment
Marketing matters. Let's make yours count.
For the doers who just need a helping hand.
Do-your-own social media services for business owners who want to be hands-on.
I'll give you the tips and tools you need to make it happen.
Social media planning bundle
Coffee date questionnaire
A social media content plan (for 1 month)
A template for a social media content plan
1:1 email support for 3 months
£450
90-minute 1-2-1 session
Get tailored advice and direction so you can move forward.
Coffee date questionnaire
Handy templates and helpful resources after the session
£120 (+ travel costs if needed)
Social media and content audit
Figure out what's working so you know what to do more of.
Coffee date questionnaire
An audit for 1-4 social media platforms, including recommendations
From £120 up to £350
Why invest in your digital strategy?
Social media is the gateway to your community but it doesn't work alone
When the way you communicate on social media is consistent with how you speak in and about your business everywhere else, you'll build a credible brand that works for you.
Your brand is the impression your customers form based on every interaction they have with your business. To shape those impressions, you need to put thought and care into everything you do. Do that and you'll…
Build trust and credibility
to get repeat business, word of mouth referrals and raving reviews and shares
Grow brand awareness
and connect with new customers who can see that you care about your community
Meet your business goals
and feel confident that the time and effort you put into marketing pays off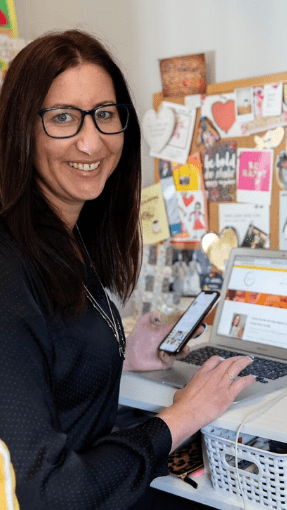 Hi, I'm Suz Bird
I specialise in social media but I'm an all-rounder marketeer. Social media is essential in business these days but using it in isolation won't work.
When we work together to develop your brand's digital strategy and content plan, we'll cover marketing and communications from every angle.
I'll be there for you when you need it most – whether that's to help you train your team, run social media at an event, support you in a board meeting or contribute to a proposal or presentation.
Wherever you're talking to customers or stakeholders, I'll help you get the message right. 
"Working with Suz has completely changed the way I approach the marketing of my business and truly reduced the stress and worry that I had before.
Suz works with me in my business – there are things that she does and things that she expects me to do, but I wouldn't be without her anymore.
She gives me options and I bring ideas or trends from my industry, and from there we chat through what would work best for the various platforms throughout the month.
She's an expert in her field and she has completely transformed my business."
Amy Maclean, Founder of Amy Maclean Podiatry
What do you say… shall we get started?