One day we'll need to do this Coffee Date Q&A thing as a real-life event right? But for now, we're sticking to digital so you can make yourself coffee and read it in your jammies and no one will ever know.
As we're days away from the Spilling the Tea event in Aberdeen with Harley Somerville and Sammy Dey talking starting up in the hair and beauty industry, self employed life, social media and imposter syndrome – it feels right that this week's Coffee Date Q&A is with Sammy Dey!
You can catch-up on Harley's coffee date here, but let's say hi to Sammy first and find out how she uses social media for her business.
Tell me about your business.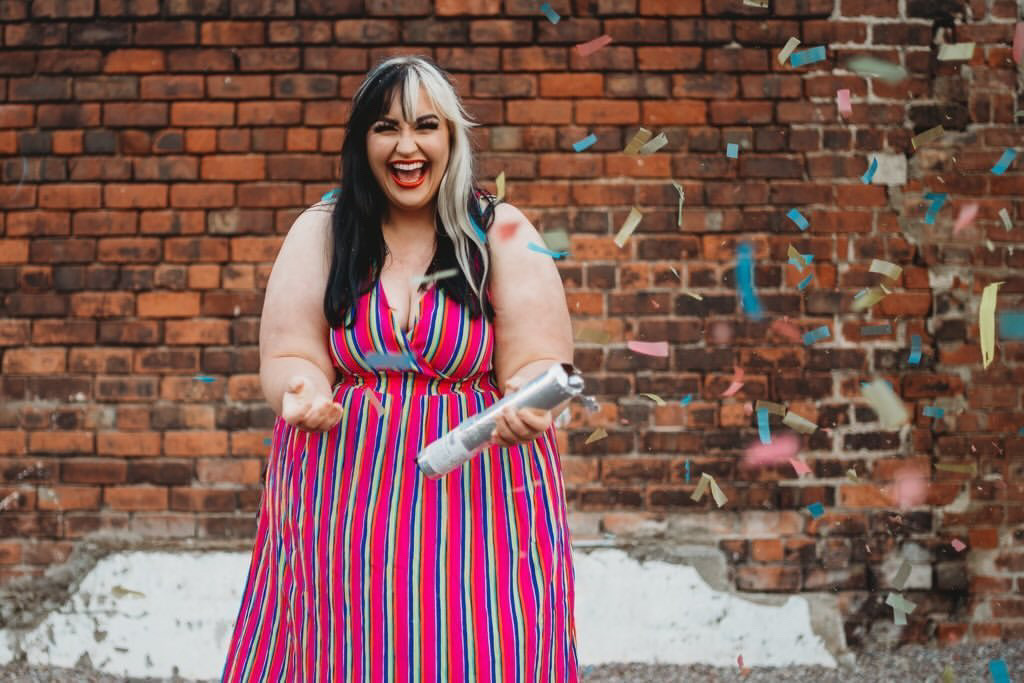 Hey! I'm Sammy Dey (she/her pronouns) and I am a business owner based in Aberdeen. My business is within the beauty sector and I am a Brow Expert in Brow Lamination, Signature HD Brows and Henna Brows as well as offering Lash Lift and Tint services. I am also Aberdeen's OG Tooth Gem Technician as I was the first (and only) technician trained in person in London by Crystal Canine – the only tooth gem course which has been approved by the GDC (General Dental Council).
I have been in business since June 2019… yes, you read that right – right before the C-word hit us! I really picked the perfect time to launch my business, didn't I?! Honestly though, I wouldn't change it for the world as I have learned so many valuable lessons potentially far quicker than if the world had been different.
I currently rent a room within The Studio Salon's and work from there 4 days a week. I absolutely adore my room within the salon, one wall is full of positive quotes and another is covered in cow print! You'll need to come see it for yourself! I feel having my own space allows for my clients to have space away from others and the relationship I can build with my clients is definitely impacted in a very positive way by having that privacy, there isn't a conversation that hasn't been had during appointments – truly nothing shocks me anymore! I love it!
Talk us through a typical day-in-the-life of Sammy.
A day in the life begin's with waking up with only JUST enough time to get showered and ready, this is my number one toxic trait and something I really want to tackle, especially now the light mornings are here! I then head to work and normally work 8-10 hour days, I personally prefer to work longer days to then give myself an extra day off a week – 4 day working week + 1 day for myself + 1 day spent with my girlfriend and life admin + 1 day dedicated to admin = a very happy Sammy! My day at work consists of everything from male / non-binary / unstructured brow waxing to brow lamination and then all the way to 22K gold tooth gem maybe with a Swarovski crystal bottom row – I LOVE IT! I typically finish work in the evening and head home for food and watch a series or film.
Tell us how you use social media for your business. 
Social media is the only way I market my business. I use it to engage with current clients as well as potential future clients. I love social media – there are many, many, manyyyyy things I wish I could change about social media and I absolutely could have a better relationship with it at times, however in the most part I absolutely love it! You have access to a whole world of people – from a business point of view but also just as a connecting tool, the opportunities that can come from social media are amazing!
I predominately use Instagram and have 2 profiles – one that I run just myself and I use as a business and personal page. I post pictures of my work, myself, my own life outside of work as well as quotes that I love. I also use Instagram stories quite a lot and post everything from things about myself and what I am up to in vlog style uploads as well as availability or cancellations – this page is @sammydey_. My second account is ran by my virtual assistant Jen – she handles all of my business enquiries and booking related messages. Anything from someone asking for a raffle donation through to a client looking to book or amend an appointment that cannot be done through my online booking – all goes through Jen. I began working with Jen back in October 2021 and I have never looked back – I could go on for days about how helpful she is to me and my business…. and she is FAST!
Is social media your primary marketing channel for your business?
Indeed it is! I do kinda miss posters and flyers though… is that weird?
How do you find content and inspiration for social media?
I take pictures of my work throughout the week… I just hit 100,000 photos in my photo album so I feel that alone gives a sense of there's never a lack of content – something I have very grateful for! I operate a wee system – 1 Quote Post, 1 Photo Post, 1 Quote Post, 1 Reel and repeat. This gives the flow to my page while still trying to keep up with different and engaging content.
Do you repurpose content?
Sometimes my content will go from stories to feed. And for Facebook all I do is repost to my facebook from my Instagram page – I don't really do anything else with Facebook if I am honest. I do really need to work on saving my Reels once I have made them and then uploading these to TikTok – I feel it's something that is so simple and easy *adds to calendar and notes to remind myself 😂*
What's your favourite social media channel and why?
For business – Instagram but to use personally in my free time, absolutely TikTok!
Name one of your favourite brands or businesses to follow on social media.
@bananacrush on Instagram – her quotes are what I imagine the inside of my brain to look like.
How do you switch off from social media?
I actually recently turned off my notifications for Instagram – whether I like it or not, checking Instagram is now a full blown habit. I will pick up my phone and check it a million times a day anyway so why do I need to be notified when I am trying to not be on my phone? It's worked for me but I do feel having Jen almost allows for this to happen. Without having Jen there to deal with business messages maybe my opinion would be a little different but the ethos still lies – if you want time away from you phone you don't need a flash of light or ding to tell you someone or something needs your attention! 
If you could give us one top tip for using social media for your business what would it be?
Use as many hashtags that are appropriate for your post and your business! If you're uploading a picture of your dog, I personally wouldn't use #BritAwards for example… even if it is trending, your post will be lost and it isn't the correct target market.
Follow Sammy on Instagram  and you can book tickets for the "Spilling the tea" event on 12 June here.