Welcome to another round of coffee date Q&As! A blog series I made up during one of the millions of lockdowns in lieu of not being able to meet people for real-life coffee dates. Community and collaboration are a big deal to me and time with other business owners or my industry peers is a big part of my working week and a big part of what I love about my work.
The coffee date Q&A series is my way of sharing some of that coffee-date magic with you! During a coffee date, talk inevitably turns to social media for business and how different business' approach this is fascinating – both from a strategic point of view and learning from others in different industries.
My work takes me into loads of different industries (healthcare, beauty, food and drink, wealth management, retail and an author are all current client-industries of mine!), but not everyone has the opportunity to hear from others as to how they use social media for business. There is something special about knowing you are not alone, that goes for celebrating success or tackling disappointments!
But enough Suz-chat, let's meet our coffee date guest – Siobhan Jaffray from SJ Nutrition.
Meet Siobhan.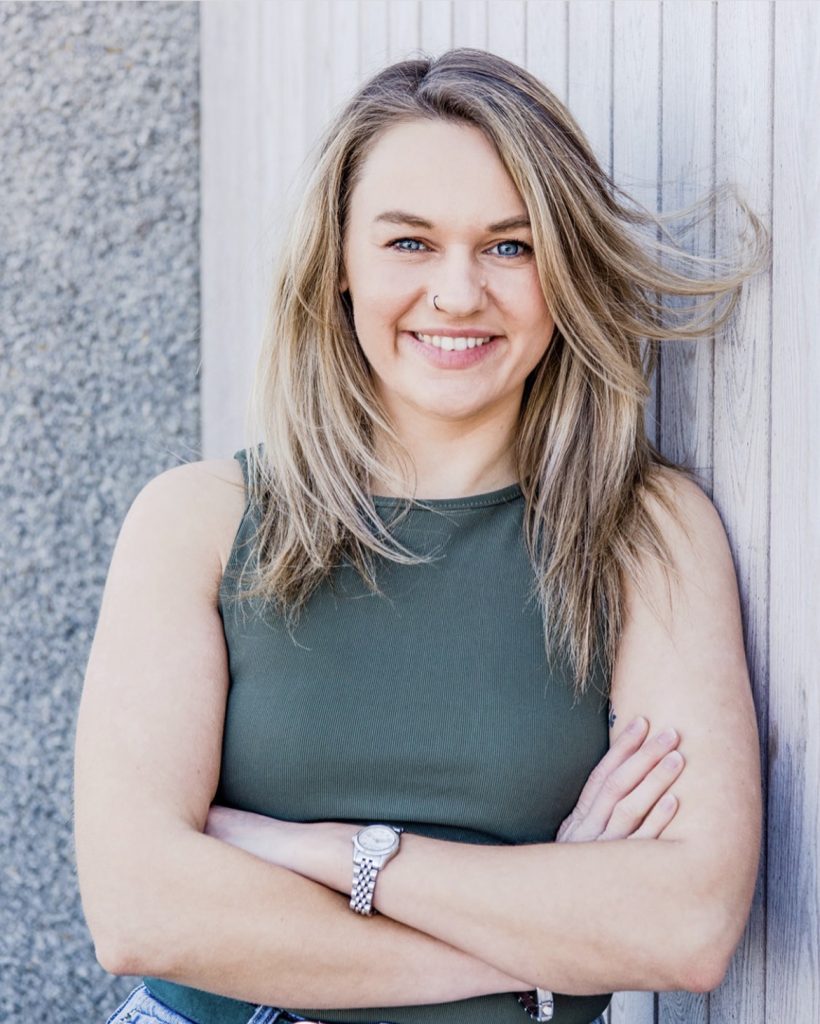 Even though I knew of Siobhan from LinkedIn, it was through SJ Nutrition on Instagram, that Siobhan and I started chatting and where I started to engage with her content. I am always intrigued how some industries handle social media and the nutrition space is jammed with false information and false promises – Siobhan is excellent at combatting this and does so in a very relatable and (dare I say) authentic way.
In my humble (but experienced) opinion, it's always worth paying attention when someone is showing up on social media as a business but breaking a few boundaries at the same time.
So get a coffee and enjoy this Q&A!
Tell me about your business.
My business is SJ Nutrition. I help people who have been starting a diet every Monday for the past few years by helping them break the yo-yo diet cycle. I offer 1-1 coaching and most recently I have launched group coaching which includes a weekly yoga class. All my clients are treated individually and I assist them to create a diet that works for them, help them set goals and create healthy habits. "Healthy nutrition your way" is my tagline because every body is different and our diets should be treated this way too.  
Talk us through a typical day-in-the-life of Siobhan.
A typical  day for me is wake up, journal, (cannot recommend this enough), read a page of The Daily stoic and then get some work done. Usually I hit the gym mid morning, I feel this is a nice break from work and I come back refreshed ready to tackle the rest of the day. I include yoga daily too which is usually late afternoon. Weekends I still work a little, spend time with friends and family, bake and in the summer months, I love munro bagging! 
Tell us how you use social media for SJ Nutrition. 
I use social media to build relationships, network, give tips on nutrition and build a presence for my business. I actually really enjoy using social media for my business and don't think this will be an aspect of my business I will give up. (Accounts I would in a heartbeat!).
Is social media your primary marketing channel for your business?
A lot of my sales have come from social media, LinkedIn and ABN Community being the main ones. I also do email marketing and I am an active networker, Aberdeen Business Network has been a great tool to help me grow my business with the services they offer.
How do you find content and inspiration for social media?
My inspiration for my content comes from questions that my clients ask me, if it benefits them then it will probably benefit others in a similar situation. As an ex serial yo-yo dieter I also imagine the advice that would have benefited me at the time so I am essentially speaking to a younger version of me. Unfortunately the industry I am in is cluttered with a lot of mis-information which annoys me as this can be damaging to people's relationship with food. Before I would just get triggered and upset when I saw such nonsense, now when I see it I think what a great opportunity to educate people on this and channel my energy on creating a post or email instead.
Do you repurpose content?
I do sometimes, dieting is doing the basics consistently which isn't very sexy I know so a lot of my past posts are still very much relevant. When I first started I did a brand photo shoot with Iska Birnie and have some fab professional pictures which I will re-use on my socials and just change the message on them. 
What's your favourite social media channel and why?
ABN Community, the reason is in the name, it really is a great community of people who support each other on it. I have also met some really good connections through it, been able to pass on or assist others in their business and of course win some for myself too.  
Name one of your favourite brands or businesses to follow on social media.
Perhaps controversial because people either love or hate him but it's James Smith. He is an online PT and I just love how he gets straight to the point. He knows that on social media you don't have a lot of time to grab someone's attention and he does this very successfully. Having met him in real life too I can confirm he is a really nice guy and doesn't swear that much.  
How do you switch off from social media?
Something I am actively working on and trying to get better at… my phone goes on to "do not disturb" at 9pm and I make a point on a Sunday to not use my phone very much. 
If you could give us one top tip for using social media for your business what would it be?
Be yourself and show your face (is that 2?).
It's the age old saying people buy from people they know, like and trust so if you are letting your audience see a bit of who you are (which includes being in front of the camera sometimes) you are going to build a relationship with them. 

Siobhan Jaffray, Founder SJ Nutrition
Find Siobhan on Instagram, LinkedIn, Facebook or visit her website!