In lieu of not being able to meet Kate for one of our real coffee dates or even the lunch we had been planning pre-lockdown; a coffee date Q&A for you all is definitely the next.best.thing. I've already spent a fair amount of time with Kate talking social media, technology, start-ups and about everything else in between; but even though I know the scoop, I still got pretty excited reading Kate's answers to the questions I had sent over.
It's like social media and business technology nerd alert heaven; with trend predictions, repurposing content, crushing on Twitter and Clubhouse and using social media to support an industry and lobby for change. I suggest a coffee and a biscuit before reading this one!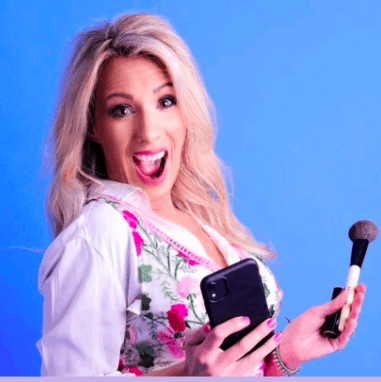 Meet Kate.
Kate Stott is the Founder and MD of BeautyBooker®and the BeautyBooker® Training Hub, she's also the Scottish Business Woman of the Year 2019, Beauty Entrepreneur of the Year 2019 and Founder of Most Innovative Hair & Beauty App -UK 2020! We met via connecting on Instagram after we have been at the same event in the One Tech Hub in Aberdeen late 2019 (P.S I love these coffee dates when I can tell you that I met some cool person via social media, it is one of my favourite things about the platforms!).
Anyway Kate! This woman is awesome; mum to 3, wife, founder, mentor, super nice person and when we do get to go for coffee she goes "what do you think Suz" and then let's me think out loud. It is gold. And rare.
So! We want to know about Kate, her business, tech trend predictions and social media right?! Over to you Kate.
Tell us about your work – BeautyBooker® and the BeautyBooker® Training Hub?
Hello Suz, and thanks for inviting me for a virtual coffee!
It all started with an endless search for a last-minute nail appointment 5 years ago; the task was time consuming and frustrating and highlighted that there was a gap in the market to quickly access beauty appointments and services. I felt that there had to be a better way and that innovation and digital technology could play that part! In 2019 we launched the first of 2 iOS apps – BeautyBooker®and BeautyMaker. This dual approach allowed us to launch available appointments in real-time and give the autonomy to our industry professionals allowing them to advertise their own availability to the BeautyBooker® user base.
Our aim over the next 5 years is to provide Hair and Beauty Industry professionals with a next-generation digital platform which accommodates promotion of their businesses, services and products, a simplified and automated booking system for clients; and a support hub for industry advice, recruitment, training, chair rental, procurement and related professional advisory services.
How was Covid-19 affected these plans?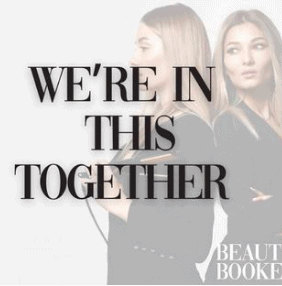 I felt we were heading for trouble the week before lockdown was announced so my focus quickly turned from running BeautyBooker® to supporting the industry as closures began. My initial fears were for the self-employed as I knew they'd be unlikely to have the support needed to know what to do in the days ahead and my gut reaction was to set up a Facebook group for the industry and start rallying everyone together.
I then appealed to my corporate contacts on LinkedIn to ask for help in the areas I couldn't directly support (including input from your wonderful self). Within days we had hundreds of businesses join and BeautyBooker® became a force to be reckoned with! We started rolling out government announcements and guidance, as well as financial advice and social media.
We were there for everything from a friendly chat to lobbying MPs on the industry's behalf via Twitter! Today, the group has 1.3K members from throughout Scotland.
Through the group, we have had many late-night discussions and chats via DM on what the pain points are in the industry and I often find myself mind mapping how we can tackle these issues via tech solutions. There was one problem that continuously kept cropping up and that was training in the (unregulated) industry…
We spent some time discussing what the problems were, what was needed to move forward and then we went to action on building what is now BeautyBooker® Training.
And then came the BeautyBooker® Training Hub?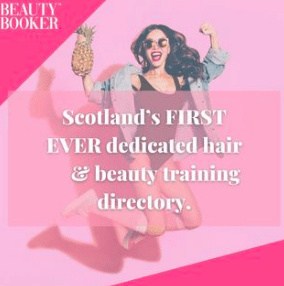 Yes, the platform is dedicated to providing trusted training courses for those within the Hair and Beauty Industry. Most importantly it is the foundations of our hub, where industry professional's can go and know they are in safe hands when booking their next course. I felt strongly about providing options to those in the industry who were without a way of working due to mask regulations (make-up artists, beauticians etc); giving them the ability to train in other services through these challenging times has become my mission.
In terms of the tech, this one I am incredibly proud of, we turned the project around in record speed and made it a scalable MVP platform with full Stripe payment integration services and an e-commerce function. Thus allowing us to offer any training providers the ability to hold online stores with us also!
All students that sign up and book have exclusive access to their online learning portals that hold all information on their courses and notifications of when they need to pay their balances after paying their booking fees. It really is a super slick way of booking.
So in a nutshell our BeautyBooker® slogan #Bookthelook® evolved into #Learnthelook and I couldn't be more happier with the outcome.
Talk us through a typical day-in-the-life of Kate.
You know me Suz and I like to keep it real whenever I can… it can get crazy sometimes! I have 3 children (ages 13, 5 and 4) a typical day through lockdown sees us up and dressed for around 9. We then settle into homeschooling whilst I reply to emails and start my list of work tasks for the day (I simply can't operate without a list).
We like to take a walk after lunch, stretch our legs and most importantly I like to let the children RUN at lunchtime, we live just around the corner from one of Aberdeen's biggest parks and it is our godsend most days.
Once the running is complete, we head home and settle down for a movie; this is usually the time I check on my oldest to make sure she is staying ahead of the game with her work then I settle down to take my zoom calls. I'll do this for a few hours before dinner and then head back up to the office once the children are in bed. The nights are often late but for me its worth it, I love being able to build my empire around my family.
Tell us about the connection between beauty, tech and social media?
Its evolution!
I look back fondly with memories of visiting the department stores and being educated on new products via a cosmetic counter. Those days, I fear are fading and what will (and is) filling its space already is beauty tech and social media!
This sales approach will be strengthened by VR (Virtual Reality). Like your filters on Instagram, they will become more realistic and eventually you will be able to accurately colour match your foundations, try on that mascara you love and do full skin evaluations through your phone. It's an incredibly exciting time.
We are already seeing this now with brands like Charlotte Tilbury who are offering a foundation colour match service through their online portal. There are still some advancements to be made in the tech but I'm looking forward to watching them take over this space.

Kate Stott, Founder of BeautyBooker® and BeautyBooker® Training Hub
Personally, I don't think its out of the realm of possibilities for smart mirrors to be leading the way in the near future in salons. Imagine being able to try your style and hair colour on in the chair whilst getting your consultation!
In terms of social media, it has changed the game for beauty brands and what consumers want. We want things faster; we want to look like our icons, and we have the ability to do this better than ever with the introduction of online tutorials and make up hacks. Tik Tok has undoubtably changed the landscape for the younger generation and I'm looking forward to seeing how the platform evolves for the beauty industry and how brands will continue to engage with their users.
How would you mentor someone on using social media for their business idea or start up?
My advice would be to get to know the platforms first, spend some time on them and start engaging with people. Pick only a few to be on at first as it can be all consuming at times.
Ensure you have a structured plan in place, including what you will be posting, what you want that to look and feel like and ensure that you incorporate your story in your content too.
I believe that all your business' content, including your social media, needs to carry the soul of your company. Stand firm on your beliefs and your values when posting and be a business that believes in something.

Kate Stott, Founder of BeautyBooker® and BeautyBooker® Training Hub
How do you use social media for your business?
Social media has been everything for us, it's how we launched and how we continue to market and stay in touch with our customers.
Facebook has been our "epi center" through the pandemic.
The groups function has provided a vital service in allowing us to pull together thousands of hair and beauty business owners as a community and we really have had the perfect space to offer guidance and support.
How do you find content for social media?
I usually go "shopping" for content once a month or so, I like to follow accounts that inspire but I also feel an obligation to our younger audience to provide looks that are natural and glamorous. I want our audiences to be inspired and uplifted by our content and not feel like they need to be or look completely different when looking at any BeautyBooker®content that we post.
Do you repurpose content?
Yes! It's a handy trick. I find that I come in and out of writing creatively, it's something that I really need to be in the head space for. I tend to make the most of it when I am and I add to my writing library of different subjects and topics. I also like to pull content from our business plans, past interviews and even our pitch decks! Everything has a story to tell.
What's your favourite social media channel and why?
Before this month it was Twitter, I follow such a diverse group of people on the platform and I find my feed super interesting, however that all changed when I received an invite to Clubhouse and oh my goodness… I feel like my reach of knowledge and connections has expanded overnight!
The concept of dropping in on "exclusive" real time audio conversation with global experts has me hooked and the feeling of FOMO is real when you haven't logged on for a while. Its safe to say I fully believe they will reach unicorn evaluation by the end of this year and I can see it really being the next big thing. My habits have changed already and I find myself logging into Clubhouse instead of the radio when it comes to having some background noise.
Name one of your favourite brands or businesses to follow on social media.
I feel myself being quite picky when it comes to favorite's these days. As mentioned before, I think Charlotte Tilbury do incredibly well to attract and engage with a wide-ranging demographic via social media. This is complimented with how well they brand themselves, they stay consistent and actively engage with their users.
My favourite new business has to be The Flock– a news start-up led by the wonderful Jennifer Crichton for "woman who rise". I can say without a doubt that I look forward to their newsletters hitting my inbox and I don't say that about many!
How do you switch off from social media?
I'll be honest there are some nights that I don't. This past year has seen me lead industry campaigns, lobby government and be responsible for passing on government guidance to thousands. At times I've had to accept that I simply can't just switch off.
But…. I have one ritual and that is I run myself a bubble bath every night and I take that time to ensure that I'm having enough time to wind down before bed. I've also made sure to turn off all my notifications from Facebook, Instagram and Twitter to allow me to stay in control of when I'm responding to things. I find this gives me better focus also.
If you could give us one top tip for using social media to for a start-up or beauty tech business, what would it be?
Build your own following first, have your own team of followers behind you that can help elevate you and expose your brand to a bigger audience by liking and sharing your posts. BeautyBooker® wouldn't have got off the ground without the help of my family and friends liking and sharing our posts along the way.
Don't be afraid to ask people for advice and if you start to feel discouraged… keep going. Nothing happens overnight.

Kate Stott, Founder of BeautyBooker® and BeautyBooker® Training Hub
Find Kate on Instagram, LinkedIn or Twitter or visit BeautyBooker® or the BeautyBooker® Training Hub; request to join the Hair and Beauty Scotland- Covid 19 Support Group here.